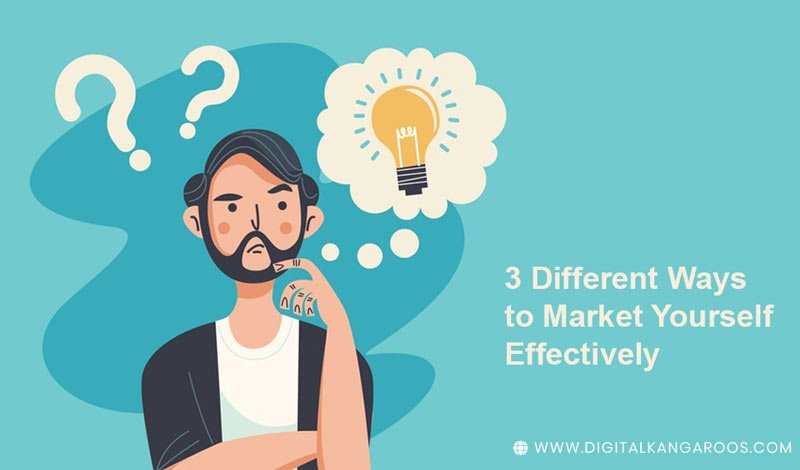 3 Different Ways to Market Yourself Effectively
Talk to artists and they would tell you the significance of reinventing yourself time and again in case you wish to market yourself effectively. They are always stuck with choices that can make a complete "do-over" possible for them. In order to connect with their audience, they have to create a persona to whom others can relate easily.
Many would agree that the job of a digital marketer is very much similar to that of an artist.
If you're into digital marketing, the methods given below can be of great help if you're looking for some professional inspiration:
Be Your Real Self
Something that has helped me gain the audience in last few years is being relatable. By sharing my own stories, the problems I face and secrets of my life- it becomes possible for others to relate to me.
What you must know is that no one wants to connect with you knowing that you're a perfect person and so is everything in your life. They want to see the real you and they'll believe in your work only when they know whatever that is being portrayed is hundred percent true.
Your primary job is to make people believe that you're no different from them. The difference will be visible when you start showcasing aspects of your personality and business that your followers are, otherwise, not aware of. Be ready to talk to them and start engaging yourself in meaningful conversations.
If you're genuine and committed to your clients, these virtues of yours are going to reflect the feedback your clients provide and that will largely influence the growth trajectory of your business.
Reinvent Yourself
The only way it is going to work out for you is by learning to evolve with the markets and by understanding how to reinvent yourself.
History bears this out. All the influencers always have had one trait in common. All of them reinvented themselves and underwent a near-constant evolution of their brands and expressions.
The path to reinventing yourself is never going to be easy. There will have to be a lot of motivation, countless sleepless nights and numerous tactics with you in your journey. All guided by the strong desire to excel.
Read Also: 7 Amazing Tools for Social Media Marketing
Because the audience these days crave unique content and has very less attention span, there is hardly any option left for you than to tap the power of change and risks. It might just help you to use controversy to scale heights in your business. Test your audience, throw different types of content and that one piece that catches their attention is going to do all the work and help you go your own way.
The Power of Storytelling
All big brands and companies are now trying to leverage the value of storytelling. They understand how stories have the power to establish purpose, motivate the audience to take an interest and thus, drive actions.
On my personal blog 'The Blogging Hacks', I have been writing posts under several categories. After launching the blog last year, there was no post that narrated a story for a few months until one day I decided to publish a true love story. The story received an amazing response on all social media networks with thrice as much as traffic on the day it got published than usual days.
Insights: The story reflected some change from usual blogging and self-improvement posts. The readers could relate to it on emotional grounds and the result was all of them either leaving comments or sending personal messages.
It's only the change that is sometimes desired more than anything else. It is, however, important that the story you narrate to your audience is relevant and holds significance in their lives. Finally, it is the ability to put your thoughts and ideas across your audience in a simple manner that is unmistakably powerful.