Celebrating a Year of Success & Much More to Come!
The New Year is all about looking at your past achievements and striving to achieve more in the coming year. As companies and individuals, we all have achieved milestones and learned something new at every step.
2022: A Year of New Challenges and Triumphs
Over the past year, we have accomplished a great deal and have much to be proud of. Our team of skilled developers has worked tirelessly to deliver top-quality web development services to our clients, and the results speak for themselves.
Some of our standout achievements include the successful launch of several complex and high-traffic websites, the implementation of numerous custom web applications that have greatly improved our client's businesses, and the establishment of long-term partnerships with satisfied clients.

Embracing the Unknown
We took our web development services up a notch with corporate photography and videography. We are proud to say that we became a Shopify partner this year and hope to achieve much more than that.
Good Elf
We expanded our services not only to different cities in India but also to other countries. Good Elf was one such prestigious client. It is a company based in the United Kingdom that delivers Christmas trees to various cities. To help them extend their business and enter the digital world, we built them a Shopify website with easy-to-use features. A simplified eCommerce website is a promise for better sales and user engagement.


KRUE and Fitspace

We also collaborated with other eCommerce fitness industries based in India, like KRUE and Fitspace. It was our responsibility to build them a user-friendly and aesthetically pleasing website to reach customers beyond the geographical location and drive satisfactory sales. Our team always has kept customer feedback their top priority and yielded solutions incorporating the client's needs and own creativity. Considering the high competition in the niche market, they relied on us to target the right audience and drive significant revenue.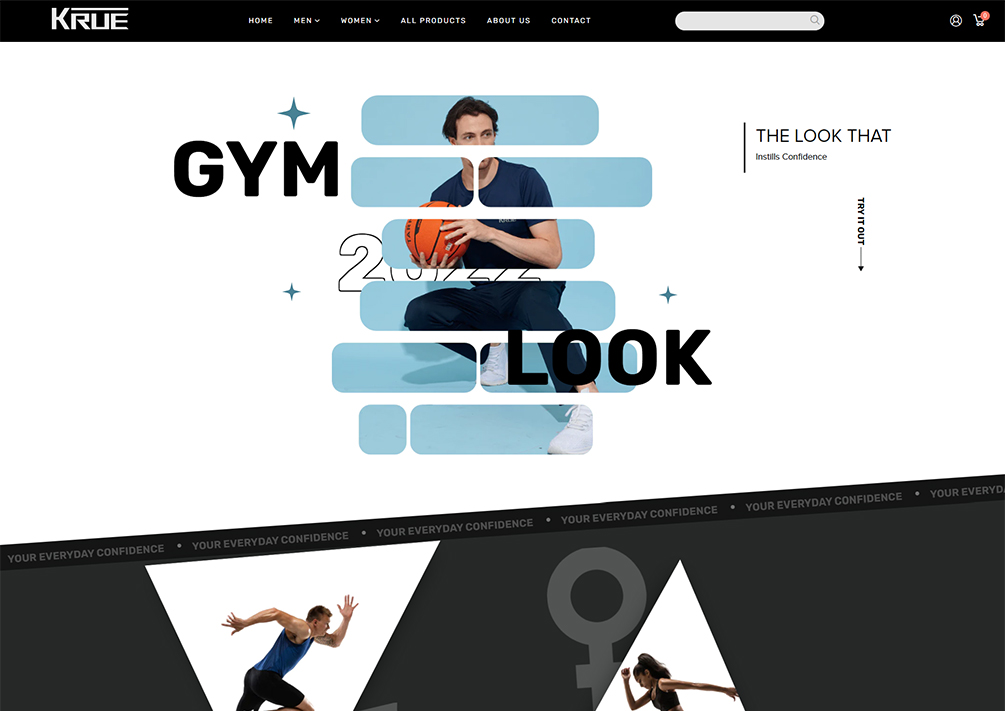 Happy Group of Companies
Besides that, we also extended our services to many manufacturing industries like Happy Group of Companies (HGOC). It was challenging indeed to give different company websites a uniform look and feel yet maintain their individuality. We came up with the solution of a creating parent company website- Happy Group of Company and integrating it with four children company websites.
We not only developed a perfect corporate website but also helped them with designing various souvenirs for the AutoComp exhibition 2023. What did the designs include and what is the AutoComp exhibition? Stay tuned to find out more!
What's in store for 2023?
There are never enough milestones if you want to excel in life. With this strategy in mind, we try to up our game and services with the new technologies in the market. The continuously evolving web development and digital marketing sector emerges with new trends and frameworks to provide modern and up-to-date websites to our clients.

2023: A Year Full of Aspirations
Our focus in 2023 will be to offer a streamlined and more comprehensive range of services to become a one-stop shop for all the client's digital needs.
We aspire to indulge more experience and authenticity with an even bigger team than before. We are focussing on automating our processes for quick and efficient work delivery with project management software. We are chasing better services both in terms of quality and budget.

Our Portfolio
With our remarkable portfolio and up-to-date information about the latest trends and developments, we try to help our customers in every possible way.
Alongside this, customer engagement on our social media channels is another proof of our result-driven digital marketing solutions.

Grateful for the Partnerships
With the end of this year, we are thankful to all our clients for believing in us and continuing their digital journey with us in 2023. We hope that we can make this family even bigger! We are constantly striving to improve and stay up-to-date with the latest trends and technologies in the industry, and this past year has been no exception. Our team has invested in training and professional development opportunities to ensure that we are always delivering the best possible solutions for our clients.