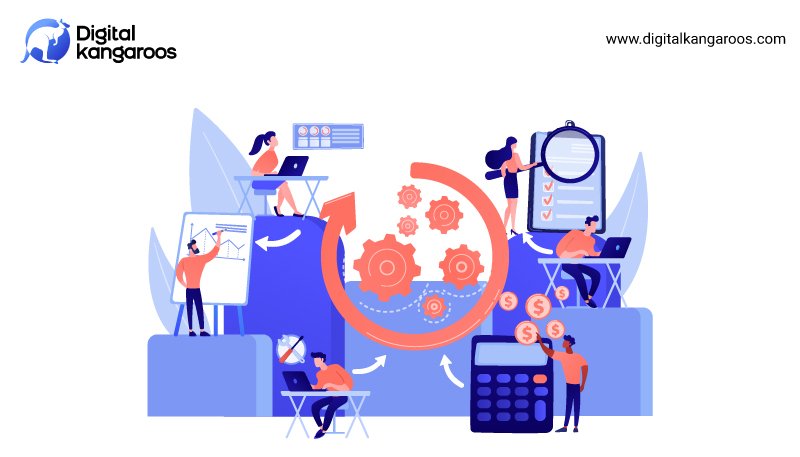 Difference Between Digital Marketing & Marketing Automation
Marketing automation and digital marketing together can skyrocket traffic and lead generation.
However, distinctively they too offer many advantages for an e-commerce business.
Running a business without digital marketing strategies is like planning the downfall of the business.
It is crucial for business owners to understand the different trending marketing terms.
Some of these new strategies are vital to generating leads and conversions.
Let's see what these new marketing strategies bring to the table.
What is Marketing Automation?
Marketing automation is the best marketing strategy to save loads of time while engaging customers.
It uses the collected customer data and sends personalised emails and targeted messages to potential customers.
The best part? Marketing automation can send messages as an email, push notification, or SMS.
Personalised automated messages not only save you time but keep the customer engaged with constant updates.
What are the types of Marketing Automation?
Email Marketing Automation
As said, email marketing is the best way to use marketing automation to engage customers.
You can use the actions and interactions with the customers to generate personalised emails and improve the marketing metrics.
Sending automated text and email messages is an outbound marketing automation.
Social Media Marketing Automation
Every person is active on one or other social media platforms. E-commerce businesses use this activity to their advantage.
Consistent content on social media influences and engages the audience.
But posting regularly can be a hectic task and thus the need for social media marketing automation.
You can automate social media campaigns and increase the benefits of digital marketing.
However, if you are a budding entrepreneur, you can hire a digital marketing agency to create effective social media marketing strategies according to your business needs.
Do you wonder how you start getting ads for a product you searched about on Google search engines?
This is because of advertising automation. It automatically sends your paid advertisements to people who recently searched about it or might be interested in it.
Advertising automation ramps its strategy according to consumer behavior. You can use advertising automation for Google Ads and social media ads like Facebook ads.
Lead Management Automation
Generating and managing leads is the priority of every business owner. But it can be an overwhelming task since it is not possible to keep an eye on everything.
Lead management automation collects the data according to the lead generation metric you set. For instance, lead management automation will collect the data of the user spending more time on one particular product page on your website.
You can use this data along with advertised automation to engage more audiences and compel them to take action.
What are the Benefits of Marketing Automation?
Sales and Marketing Ailment
The marketing automation tools take care of every marketing strategy for your business. It gives you time to enhance the product quality and enhance the user experience.
Marketing automation starts the lead generation process from the initial stage of brand building. It eases the work of the sales and marketing department by collecting data for possible leads and potential customers.
Increased Conversion Rate
Since marketing automation tools strategically target potential customers, it effectively manages the leads. An increased number of leads possibly increases the conversion rate.
The marketing automation tools also retarget frequent visitors and create personalized SMS and emails to engage them.
The marketing automation tools reduce the time you spend on social media marketing and email marketing. Your creative team can use this time to plan and create unique ideas for upcoming campaigns.
The automation tool provides a platform to create social media campaigns, email marketing campaigns, and blog posting- all under one roof!
What is Digital Marketing?
Digital marketing helps to create a potential customer base while marketing automation helps to maintain relations with them.
Digital marketing involves everything from design to social media marketing to engage the audience and optimize content for social search.
However, they both go hand in hand. Create successful digital marketing strategies and then implement them with marketing automation.
What are the types of Digital Marketing?
Digital marketing strategies focus on promoting your products and services. With digitalization, many social media channels and display advertisements entice the audience.
Digital marketing platforms are a large sea of options, and every business has a different need for them. Some of these strategies include:
Search Engine Optimization
If you are running your e-commerce website, you must be aware of Google analytics. Google ranks the websites according to the relevant keywords and content optimisation.
Higher optimized content will rank higher in the search engine result pages.
Social media marketing is the best digital marketing strategy for e-commerce businesses.
About 130 million people make a purchase through Instagram alone from a total of 500 million active users.
You can create a strong social media profile and then advertise and sell your products and services.
It is the most underrated yet effective digital marketing strategy. Sharing informative content like blogs helps to build a strong relationship with the audience.
All SEO experts understand the value of relevant and informative content. Publishing quality content not only helps with keyword targeting but builds brand credibility.
What are the Benefits of Digital Marketing?
A successful digital marketing strategy connects you with the target audience at the right time.
Besides increased traffic on the website and higher rankings on the search engine, listed below are some other benefits of digital marketing.
Digital marketing helps businesses reach the local audience, especially if the services are for local customers. Making area-specific landing pages helps with local SEO.
Moreover, targeting local keywords enhances local visibility and guarantees a sea of potential customers.
As said earlier, there are a plethora of options for digital marketing. Be it B2B or B2C businesses, there is something for every business.
You can engage a global audience with Google Ads or you can interact with the audience via content marketing.
However, the best practice is to analyze the data and indulge in suitable digital marketing strategies.
Major Takeaways
Did you get an insight into digital marketing and marketing automation? Do you think they will be effective together?
If you still haven't automated your email campaigns, it is high time you do it.
Also, if you have just begun your journey and need guidance, Digital Kangaroos is here to help you with all digital marketing strategies.
Convert your leads into customers and Get Started NOW!