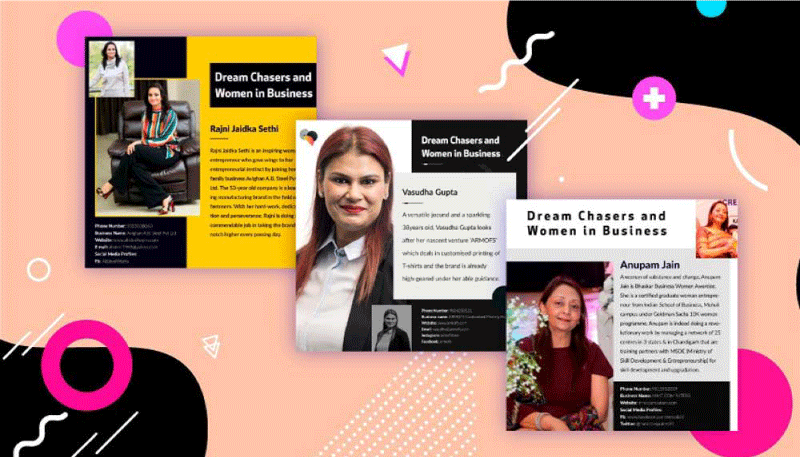 FICCI FLO Ludhiana: The Project 'Dream Chasers and Women in Business'
FICCI FLO Ludhiana: The Project 'Dream Chasers and Women in Business'
As an exclusive media partner for FICCI FLO Ludhiana, we at Digital Kangaroos continue bringing unique, fresh and innovative ideas to the surface so as to accomplish our endeavor of helping the organization reach its zenith of glory and fame.
For those who don't know, FICCI Ladies Organization (FLO) is the women wing of the Federation of Indian Chamber of Commerce & Industry (FICCI). Headquartered in New Delhi, FICCI FLO maintains a strong geographical presence throughout the country by virtue of its 15 chapters. The esteemed organization is well known and recognized for its representation of over 5000 women entrepreneurs and professionals.
Dream Chasers and Women in Business
Our Founder and Director, Sania Gupta, has been an active member of the FICCI FLO Ludhiana chapter since the year 2015. Besides conducting a workshop on 'Blogging and Freelance Writing' for the members of her chapter in the session 2016, our award-winning blogger Sania has been actively involved in writing about the events and sessions that get organized by this prestigious organization on her personal blog 'TheBloggingHacks'. As a part of her engagement in several projects and activities pertaining to Digital Media, she along with Ms. Reena Aggarwal (Current Chairperson- FICCI FLO Ludhiana) recently kicked-off a project titled 'Dream Chasers and Women in Business' so as to not only empower the women members but also help them enhance their visibility and gain professional recognition in the fields of their work.
FLO is about women empowerment and there couldn't have been a better way to promote members than help them gain recognition amongst fellow members, thereby, giving them more power and making it possible for them to generate more leads for their businesses and thus, better revenue. The primary objective behind launching the project was to promote the women entrepreneurs and professionals on the organization's social media pages by making their striking and engaging profiles. A large number of followers on the chapter's social media pages along with the members of WhatsAPP Official Group (FICCI FLO Ludhiana) served as a perfect audience to promote the products and services that are being offered by the member entrepreneurs and professionals.
Read Also: Case-Study of MyStudyDestination: The Award-Winning and India's No.1 Career Blog
With her vision and expertise, Sania was able to introduce and conceptualize the idea that would stand out in the space of Digital Marketing. Her passion for words spawned creativity in the designs that she and her team curated for the members of her chapter. The participating members have managed to garner a lot of attention and are being duly recognized for their talent and skills.
We at Digital Kangaroos love giving wings to new projects and ideas all the time. It helps us exercise our creative confidence, expand our knowledge base and make it possible for us to continually deliver the best of Digital Marketing Services to our clients who believe in our work and motivate us to give our best shot.
Should you have any requirements in the space of Digital Marketing or Blogging, kindly don't hesitate in reaching out to us at +91-9814820845 or +91-7814045013.