Importance and Benefits of Google My Business Listing for Your Business
The sweetest, most amazing and simplest era of phonebooks is now definitely long behind us, and the trees surely thank us for that!
But that actually does not mean that it is no longer a nice perk to certainly have your business in an online directory—it is definitely a must-have.
However, many of the small businesses cannot be really expected to upgrade their technology at the rate of large groups like Google or Microsoft. Hence, we are here to help you take the very first step of getting your own business being listed on GMB (Google My Business) by merely answering the following queries:
What is Google My Business in general? And why is it important?
What are the benefits of Google My Business?
What is GMB (Google My Business)?
In short, Google My Business is generally like a virtual or say online directory or phonebook. Not only this, Google My Business can also make your business much easier to eventually be found on Google at any given point, but online, as the virtual phonebook or directories.
Google My Business is definitely a kind of free tool that normally allows your brand or business to get listed and to show up generally alongside other related small or local businesses whenever someone looks up to your brand or business name or to purchase some product or service or search a related term. Your business information for example your phone number, your business website, the handle's address, hours, review ratings, and more will all be surely available on one easy virtual platform for every potential customer or audience.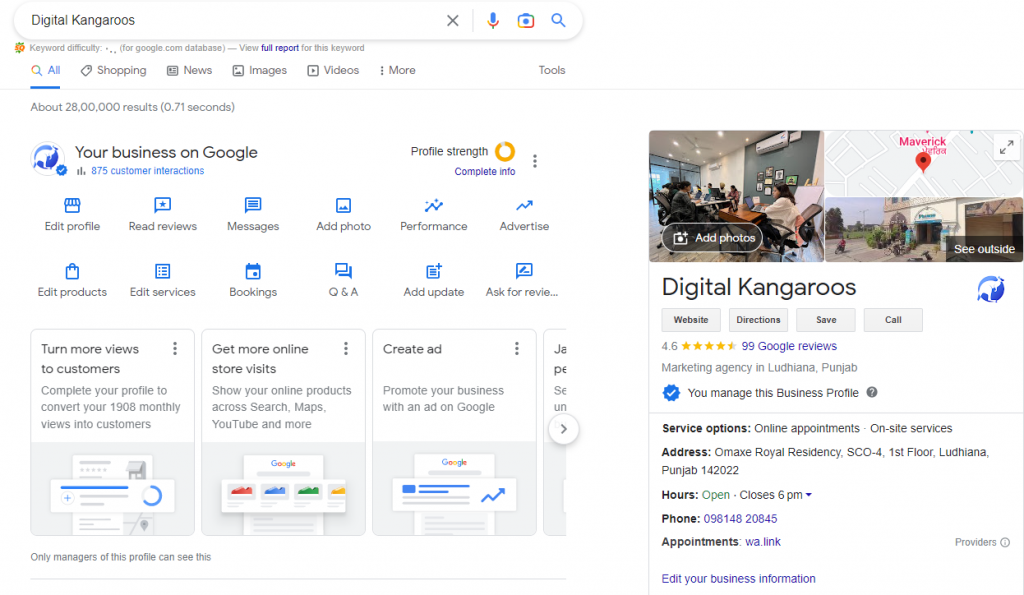 Benefits of Google My Business Listing for Our Business
Despite those tempting and amazing funnel/statistics, many brands or businesses are still missing out on the beauty and usability of Google My Business. So, let us dive deeper into the goods and specifics of how a GMB strategy can benefit your small or large business. Digital Kangaroos is the best Digital Marketing Company in North India to guide you on the usage of GMB.
Check out the mentioned 9 GMB benefits:
1. Boosting sales through google maps
Seeing all the prevailing trends, we find quite quickly that Google search is effective for narrowing down many options and facts—especially for consumers that are nowadays using mobile or other handy devices.
For instance, people use Google Maps, even to locate all kinds of brands and small businesses nearby. When it is more convenient and easier for customers or visitors to come to your business if they find you somewhere close by, you are more likely to make that sale for sure.
2. Using Google's 3-pack with Google My Business
In case you are not aware or if you have used Google's local search results earlier over the past few years, you might have probably noticed that the only local listings to generally show above certain organic results on search engine result pages are in a limited and 3-pack format.
What most brands usually don't know is that merely by creating a free Google My Business (GMB) listing, you can surely boost your local rankings and even the odds of being included in Google's local 3-pack.
3. It helps you build trust with your own customers
One of the biggest known hurdles that consumers face today is building enough trust with a brand or business to confidently make a smooth purchase. As a business owner, for you, one of the simplest steps or ways you can take to help with that is to provide your audience with the business's location on Google My Business.
4. Ratings on GMB boost your appeal
A higher number of people read reviews before even making a decision to purchase. With a GMB listing, customers or visitors will surely be able to review your business and leave certain feedback for others to see.
With this, over time, you will start to collect more and more reviews and a higher plus great overall rating (responding to certain reviews may also help you with this). This is especially helpful when you precisely need to gain a competitive edge.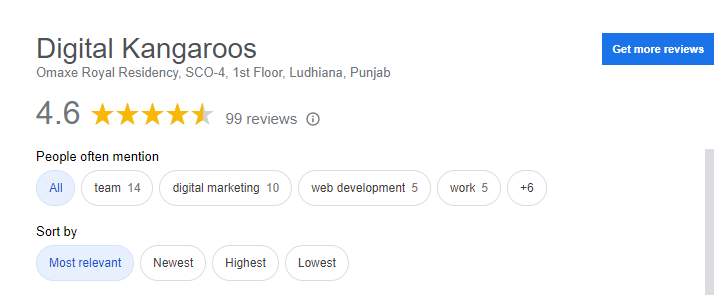 5. It helps you to increase your traffic
A common challenge for all local businesses is of getting a sudden or gradual increase in the SERP or quality website traffic as well as possible in-store visits. While there's no way to completely avoid certain ups and downs throughout the year, having a GMB listing can greatly help in boosting your numbers across the competition.
6. It helps you to know more about your customers/audience
It is no secret that the more you know about your audience/customers, the better you will be able to usually appeal to them. From your GMB page, by precisely navigating to the Insights section will surely give you a wealth of great and valuable analytics that will clarify how visible your business or brand is, who your target audience or customers are, and how they are in generally engaging with your respective business.
7. It helps you to be at the top of SERP
Just like all of us, Google always and also has a job to do. While sometimes to you it may feel like it might be working against you, Google itself wants to tell your customers about your brand or business or the product and services that you provide because it surely needs to provide searchers with the most efficient and valuable information.
The more Google knows about your business, the higher it will primarily rank you at the top of search engines.
8. It helps in increasing the Engagement With Your Brand
Google My Business profiles also provide ample opportunities in larger areas for engagement with your visitors. Potential customers can definitely access your website with just one tap or click.
9. Get Ahead of Your Competition with GMB
Ranging from the longest blog to the smallest snippet of content, your GMB description gives you a great opportunity to stand out precisely from your competitors is usually a consumer's initial scan through provided search results. It displays certain brief descriptions to help many users quickly identify if your brand or business is what they're generally looking for.
Get Started with Listing your Business on Google My Business Today
Setting up a Google My Business account is definitely painless and requires minimal maintenance once it is in running terms. Even if you are short on time, you can also find a digital marketing partner to really help you with Google My Business. Either way, we know that GMB is surely not a want-to-have thing, but a need-to-have asset to precise your marketing plan. Get the Best Digital Marketing services in India, the USA, and Canada at really cost-effective prices.