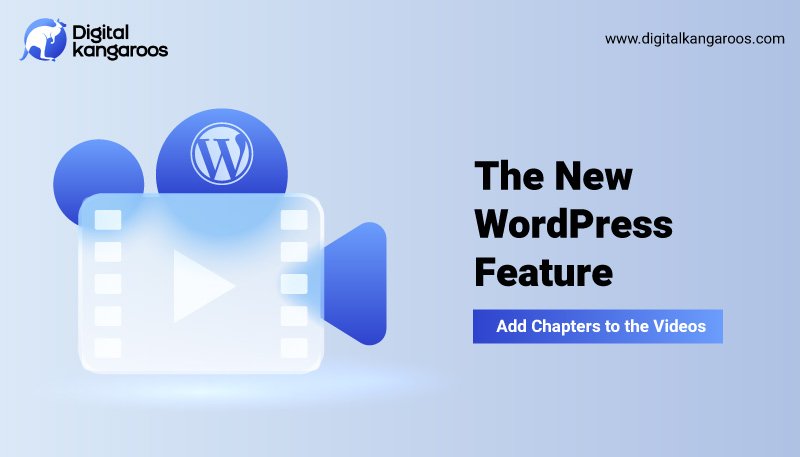 The New WordPress Feature- Add Chapters to the Videos
Are you looking for a way to add a unique twist to your WordPress blog? Look no further than the new video chapter update on WordPress.
WordPress has been known for its wide array of features that allow bloggers to customise their blog posts to fit their unique needs. It comes up with a new update every now and then to enhance user experience and increase website engagement.
Now, with the latest update, WordPress is taking it one step further—adding the ability for bloggers to embed interactive videos directly into their posts. In this article, we'll look at how you can use this feature on your WordPress blog to maximize reader engagement and make your blog stand out from the crowd.
What is WordPress?
WordPress is a content management system (CMS) that enables you to create a website or blog from scratch or to improve an existing website. It is free and open-source software released under the GPL.
It was first released in 2003 and has since become one of the most popular CMS platforms in the world, powering millions of websites. WordPress is a powerful and user-friendly CMS used to create and manage a wide range of websites. It is flexible, customizable, and has a large developer community, making it an excellent choice for those looking to build and optimise a website.
The New Video Chapter Update
The WordPress update 6.1 is a great new addition to the digital world, launched in November 2022. The template editor, building with patterns, global styles, blocks and design tools, themes and wider adoption gave a better editing access to the theme.json editing.
Previously WordPress allowed you to easily embed videos from popular online video-sharing sites like YouTube and Vimeo into your blog posts. You only had to paste the URL of the video into the "Insert Video" dialog box, and WordPress would automatically embed the video into your post.
This feature is especially useful for bloggers who want to share their favourite videos with their readers without having to host the videos themselves. It also makes it easy to include videos in your blog posts without worrying about coding or other technical details.
The WordPress video feature is available for all business, eCommerce, and premium plan holders. And for the ones with a self-hosted site, they have the option to use Jetpack VideoPress.
But typically focussing on the new video update announced on December 21, 2022, by WordPress, here is what you need to know. This feature is an enhanced version of the VideoPress feature, launched in April 2022.
Now it is possible to add chapters to the videos. With this streamlined and easy-to-use interface, the readers can hover over the video timeline, and they will see the name of that particular step. By clicking on the timeline, they will directly be sent to that part of the video.


Source: WordPress
How to Add New Chapters to the Video?
Adding chapters to your videos is a great way to improve the user experience on your site. By allowing users to jump to specific sections of your video, you can help them find the information they're looking for more quickly and easily.
To add chapters to your videos, simply edit the post or page containing the video and click on the "Add Chapters" button above the video player. This will open a dialog box where you can enter the start and end times for each chapter, as well as a title and description.
Once you've added all of your chapters, they will appear as thumbnail images beneath the video player, which users can click on to jump to that section of the video. You can also reorder your chapters by drag-and-dropping them in the order you want them to appear.


Benefits of Adding Videos to your Websites

• Improved Website Performance: The video embedding feature helps improve website performance by reducing the amount of data that needs to be loaded when a user visits a page with video content. This can help improve website speed and reduce loading times.
• Increased Engagement: Videos are often more engaging than other types of content, such as text or images. By adding videos to your site, you can increase user engagement and keep people coming back for more.
• More Control Over Your Content: With the video feature in WordPress, you have more control over your videos. You can choose when and where videos appear on your site, and can also password-protect some videos if you want to restrict access to them.

Other WordPress Features
In addition to its core features, WordPress also has several advanced features that make it a powerful platform for building websites.
One such feature is its support for multilingual websites. WordPress has built-in support for multiple languages, allowing users to easily create a website in multiple languages and switch between them with a single click. This makes it an excellent choice for businesses and organizations that want to reach a global audience.
WordPress also has a range of built-in security features to protect websites from potential threats. These include regular security updates, password protection, and the ability to create secured user roles and permissions.
Another key feature of WordPress is its search engine optimization (SEO) capabilities. It has many built-in tools and plugins that can help improve a website's visibility in search engine results, making it easier for potential customers to find the website.
Why Should You Use WordPress?
It has a user-friendly interface that allows users to easily create and manage their website content, including pages, posts, and media. It also has a wide range of features and plugins that can be added to enhance the functionality of a website, such as contact forms, e-commerce capabilities, and SEO tools.
Another advantage of WordPress is its flexibility. It can be used to create almost any type of website, from simple blogs to complex e-commerce stores. It also has a large developer community, which means there are thousands of themes and plugins available to choose from, allowing users to customize the look and feel of their website to match their brand and style.
If you are looking for a web development agency in Ludhiana, India. Digital Kangaroos is the perfect choice for you. Our developers have extensive experience building personalized WordPress websites.

Get in touch with us to get your website ready at competitive prices!