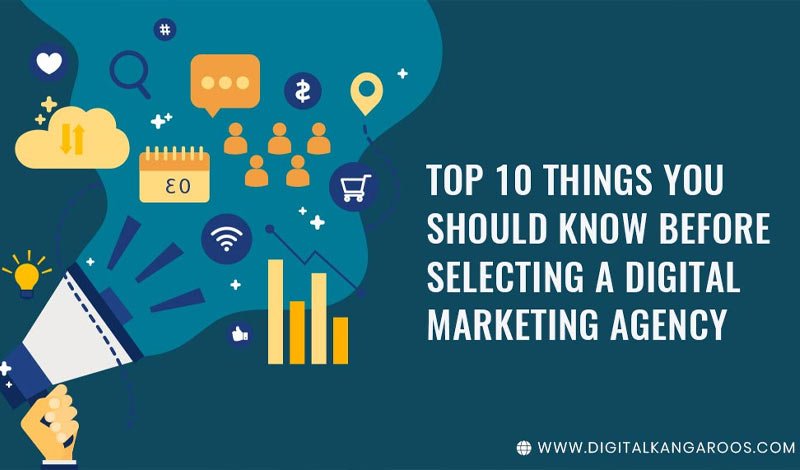 Top 10 Things You Should Know Before Selecting a Digital Marketing Agency
Having an impressive digital presence has become imperative both for existing as well as new businesses. The potential customers today have become more digital-friendly with the onset of the mobile revolution. Most of their purchasing decisions are primarily taken on the basis of what they read and see online.
So, it's very important to lionize your digital marketing strategies. Drafting an awesome piece of content may be difficult as you need to plan the campaign, write the content and then measure ROI. You have to pull out all the stops of your content marketing efforts to see the results.
Today more than 62% of the companies have outsourced their content marketing to digital agencies. If you don't have time to keep up, it is better to hire digital marketing agencies as they have impressive professional experience, knowledge and seasoned team of experts to take your online business to next level.
Reasons to Hire a Digital Marketing Agency
You should consider hiring a digital content marketing agency when:
You don't have time to manage all your campaigns.
Your current strategies aren't giving results as expected.
You want an expert to take over your digital marketing strategy.
But before launching hunt for the right digital agency, you need to be crystal clear about the vision and goals of your business.
You should know exactly what your expectations are from the agency and what you want to achieve. You should be very clear about your audience, markets, and products. And also, the type of services you want such as SEO, blogging, paid campaigns, promotions, social media, etc.
The online and offline world is flooded with a lot of decent digital marketing agencies, cherry-picking the perfect one needs rolling up your sleeves. If you are not sure how to begin, then below is a checklist which helps you to know what you should look for in the right digital marketing agency.
Broad Content Spectrum
How to Check: Check services page or enquire about what all they offer
Writing a decked-out content only will not make you stand above the rest. What you need actually is a great SEO friendly and optimized content which is well put together with keywords and length. When you outsource your content work, you have an option to go for infographics, logo designing, and podcasts apart from simple blogging. All these things will help in better promulgation. You can expect a broad spectrum of services such as white papers, case studies, graphics, podcasts and other types of content.
Opting for a digital marketing agency that offers content marketing, SEO and other digital marketing services is a better option as they have an advantage of having a higher technical edge on how things work digitally rather than delegating the marketing and content creation work to two different agencies.
Solid Content Strategy
How to Check: Company's portfolio and testimonials
There is a difference between writing a few blog posts and writing as per the understanding of the client's goals and the buyer's journey. The marketing experts will help you draft a proper content strategy highlighting topics, frequency, ideation, publication and the promulgation by using various digital touting strategies. The content should follow an audience's first approach. The firm should offer a smart data-driven approach that helps the client to gauge the metrics.
Results Matter
How to Check: Ask for case studies
There is a lot of difference between creating a decked out blog and creating a blog that drives results. The success stories, testimonials, and case studies help the client to understand the success ladder of the company. If a digital marketing agency hesitates to show you the results achieved in the past or doesn't have any case studies, then choosing this company would be a blip.
Check their Experience
How to Check: Check their client list, client satisfaction ratio, projects delivered, tools, technique and strategy
Experience doesn't only account for the number of years rather it is a combination of years and right strategies. If a company is offering digital marketing services but still using obsolete tools and strategies, then backing on this company may give you slow and temporary results.
Ensure that the company is using strategies that are latest and drives you immediate results. Even if it is a start-up but has talented professionals, you can back on it. An ideal firm is backed by talented designers, marketers and creative content curators.
Read Also: Top SEO Hacks You Can't Miss in Today's Time
Core Niche
How to Check: Check their past work and social media pages
Every digital content marketing firm specializes in specific services and niches. Suppose, you have a business that deals with fashion accessories, then you need a firm that is well acquainted with the Fashion Industry. It is really important to have a look at their past records and testimonials as well.
You can follow their social media page on Twitter, Instagram, Facebook, etc and have a look and feel about how they are promoting the things.
Consider their Promotional Strategies
How to Check: Check social media pages and websites
Even if you hire the best of rhetoric to curate an awe-inspiring content for you, the things won't work until you are not doing anything to promote your content. Creating original and engaging content and then leaving no stone unturned by promoting via social sharing will give you exceptional results.
SEO Performance
How to Check: Google Ranking
The litmus test for any content marketing company is how well it performs on Search Engine Rankings. Try to punch some keywords and check the Google ranking. If the company is coming on the first five ranks or even on the first SERP, then you can kick start the communication.
Pricing
How to Check: Send an email or check the website
It is one of the major and most crucial deciding factors when coming to terms with any digital marketing company. Nowadays, the companies offer packages rather than a fixed plan or what we call as the flexible billing cycle. You can avail or stop using the services at any point of time. You will be billed only for the services availed in that duration. A right company offers packages suitable for every type of needs.
Transparency at All Levels
How to Check: Offers seamless communication via emails, live chat or phone call
If you are not kept in the loop for every decision made regarding your project, then this is a sign that the company may not be sharing every detail with you. An ideal marketing company is fully transparent in its work and communication. The company shall give you a working layout as well as share the milestones set for the project. All the status reports are regularly shared with you.
Multi-Channel Strategy
How to Check: Available on all major platforms such as Facebook, Twitter, Instagram, etc.
The digital marketing agency near me should be creatively repurposing the content which means that the content should be broadcasted on every social media platform to get engagement, more traffic and thereby more leads. This helps in delivering a more versatile and holistic experience for the customers. Having a great multi-channel strategy that resonates with the ethos of the client company complements other facets of digital content marketing.
All you need is good online visibility that promotes brand awareness and generates leads that bring business. Once you find an agency that complies with all the above traits, feel free to avail services through them.
Digital Kangaroos, a premier digital marketing agency Punjab, doesn't only help you save a lot of time and money but also saves you from the headache of curating and promoting the content. Our seasoned team of young and dynamic professionals is adept at offering creative digital marketing services that will make even the posterity cherish your brand. Contact us to learn more about our award-winning services.