Case Study
Revolutionizing
Modern Orthodontics

with a Dynamic WordPress Corporate Website by Digital Kangaroos
---
MODERN ORTHODONTICS, a renowned manufacturer of high-quality and competitively priced orthodontic products, recognized the importance of establishing a strong online presence. To showcase their extensive product range and engage with a global audience, MODERN ORTHODONTICS partnered with Digital Kangaroos, a dynamic web development and software company. The goal was to design and develop a modern and dynamic WordPress corporate website that would reflect the company's commitment to excellence in orthodontics.

Limited Online Visibility
The company's previous online presence was limited and did not effectively communicate its product range and quality.

Global Reach
MODERN ORTHODONTICS needed a platform to reach a global audience of orthodontic professionals, showcasing their products effectively.

User Engagement
The website needed to engage visitors and convey the company's dedication to producing high-quality orthodontic products.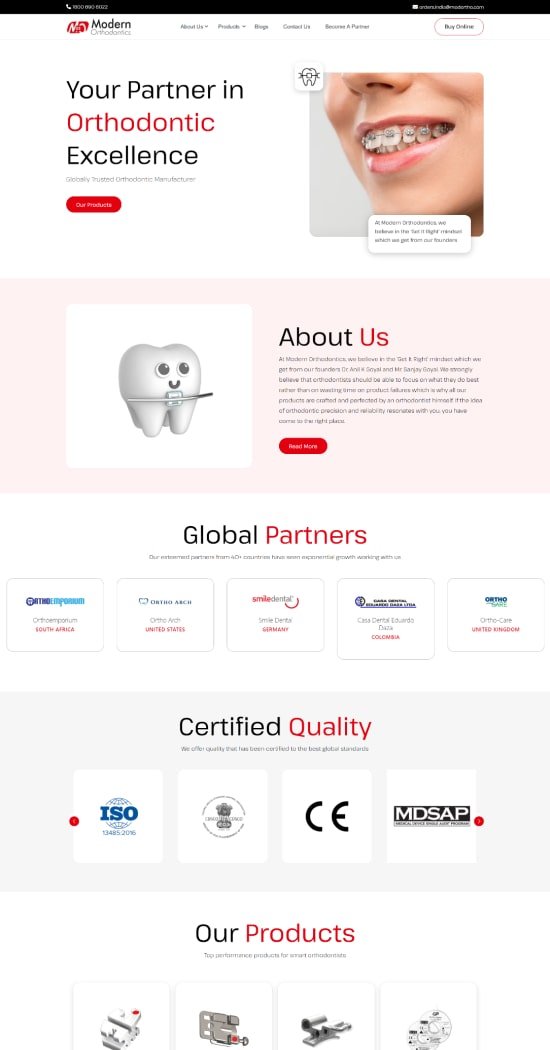 Solution
Dynamic WordPress Corporate Website: A dynamic WordPress corporate website was designed and developed, offering a user-friendly interface and ease of content management.
Responsive Design: The website was built with a responsive design to ensure optimal user experiences across various devices and screen sizes.
Product Showcase: Dedicated sections were created to showcase MODERN ORTHODONTICS' extensive range of orthodontic products, highlighting their quality and competitive pricing.
Global Accessibility: The website was designed to be accessible to a global audience, with multilingual options and easy navigation for international visitors.
News and Updates: Real-time news and product updates were made easily accessible, keeping orthodontic professionals informed about the latest offerings and industry trends.
Contact and Inquiry Forms: User-friendly contact and inquiry forms were integrated to facilitate communication with potential customers and partners.
Results
Enhanced Product Visibility: The dynamic WordPress corporate website effectively showcased MODERN ORTHODONTICS' extensive product range and quality.
Global Engagement: The platform's multilingual options and international accessibility enabled the company to connect with orthodontic professionals worldwide.
Improved Communication: Real-time product updates and contact forms streamlined communication with potential customers and partners.
Mobile Accessibility: The responsive design ensured that the website was accessible on a wide range of devices, catering to users across the globe.
Conclusion
The collaboration between MODERN ORTHODONTICS and Digital Kangaroos exemplifies the power of technology in enhancing a manufacturing company's online presence and global reach. The dynamic WordPress corporate website now effectively showcases MODERN ORTHODONTICS' commitment to producing high-quality orthodontic products at competitive prices. This transformation enables the company to engage with orthodontic professionals worldwide while staying connected with its audience in the digital age.