Case Study
Transforming
Orthoderma Clinic

with a Website by Digital Kangaroos
---
Orthoderma Clinic, a leading healthcare provider specializing in Skin, Hair, Aesthetics, Lasers, and Orthopedic treatments in Ludhiana, sought to enhance its online presence. As a one-stop specialty clinic for various dermatological and orthopedic concerns, Orthoderma Clinic wanted a dynamic online platform to reflect its commitment to excellence in healthcare. To achieve this, the clinic partnered with Digital Kangaroos, a dynamic web development and software company.

Limited Online Visibility
The clinic's previous online presence did not effectively communicate its range of services and expertise.

Specialized Services
Orthoderma Clinic offers a wide array of specialized services in the fields of skin, aesthetics, hair, and orthopedics, which needed to be showcased effectively.
Patient Engagement
The website needed to engage visitors and provide information on the clinic's state-of-the-art technology and treatment options.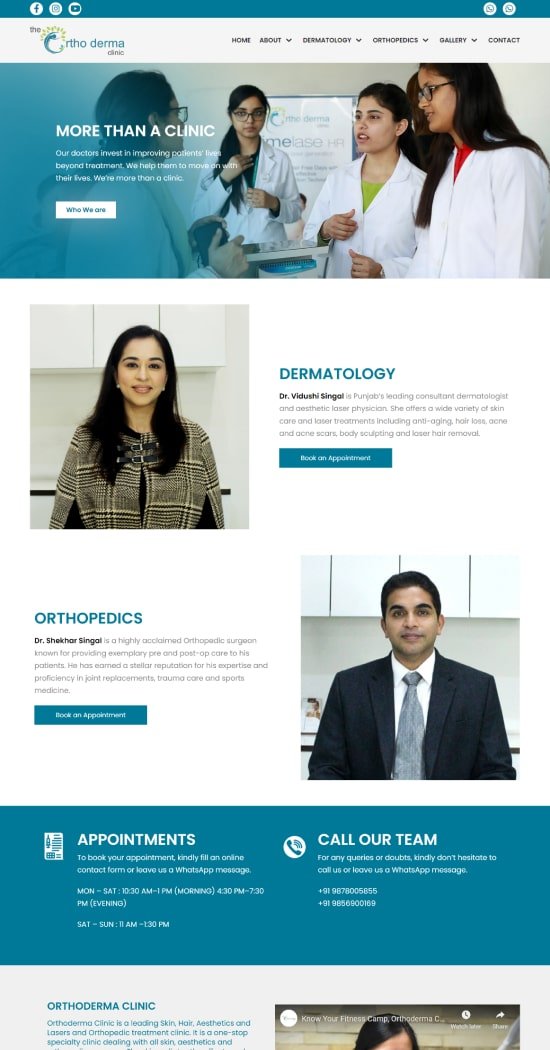 Solution
Dynamic WordPress Website: A dynamic WordPress website was designed and developed, offering a user-friendly interface and ease of content management.
Responsive Design: The website was built with a responsive design to ensure optimal user experiences across various devices and screen sizes.
Service Showcase: Dedicated sections were created to showcase Orthoderma Clinic's range of services, including skin, aesthetics, hair, and orthopedics.
Advanced Technology: The website highlighted the clinic's commitment to staying updated with the latest healthcare technologies.
Patient Resources: Information on treatment procedures, FAQs, and patient testimonials were made available to assist visitors.
Contact and Appointment Forms: User-friendly contact and appointment forms were integrated to facilitate communication with patients and streamline appointment bookings.
Results
Enhanced Service Visibility: The dynamic WordPress website effectively showcased Orthoderma Clinic's comprehensive services, making it easier for patients to find the right treatment.
Patient Engagement: The platform engaged visitors with informative content, patient resources, and easy appointment scheduling.
Technological Advancement: The website emphasized the clinic's dedication to using the latest healthcare technologies.
Mobile Accessibility: The responsive design ensured that the website was accessible on a wide range of devices, catering to patients' diverse preferences.
Conclusion
The collaboration between Orthoderma Clinic and Digital Kangaroos exemplifies the power of technology in enhancing a healthcare provider's online presence and patient engagement. The dynamic WordPress website now effectively showcases Orthoderma Clinic's commitment to providing high-quality healthcare services in the fields of skin, hair, aesthetics, and orthopedics. This transformation enables the clinic to reach and engage with patients effectively while staying connected with its audience in the digital age.