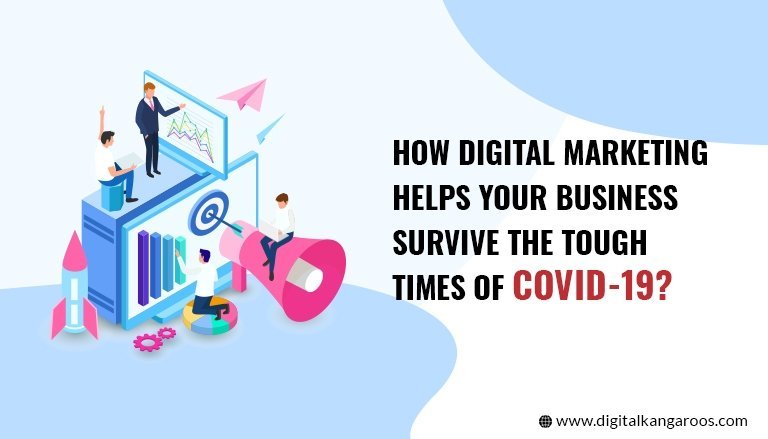 How Digital Marketing helps your Business Survive the Tough times of Covid-19?
Coronavirus Disease or Covid-19 has deeply disrupted businesses across the globe. People are struggling to sustain their businesses amid such a crisis when cities are under complete Lockdown. It's easy to say, "Stay safe by staying at home and wait till things turn normal", but hard to practice.
Chances of survival for small and medium businesses are rare after a lost game, unlike the giant companies. You will need to start from scratch if you don't take appropriate measures.
Desperate Times Call for Desperate Measures!
Let's check how Digital Marketing helps you stay afloat during the Covid-19 crisis.
It's very important to maintain your current customer base and don't let it go. It's better to retain a loyal customer than to make a new one. The scenario calls to maintain strong contact with your customers and keep them engaged.
Digital Marketing offers you an excellent platform to stay connected with your audience. It is the most convenient and cost-effective method to ensure your customers stay engaged and loyal to you. Here's what you can do.

Get Social
Social media channels such as Facebook, Twitter, and LinkedIn are places where customers get to know about your products/services, exchange their opinions, and ask queries. This is indeed the best way to sustain your brand value.
Amid lockdown situations, create a cost-effective plan to reach out to your audience. By devising more targeted advertising as per their interests you can eventually impact all points of the social media funnel. Consult the best digital marketing company in your city for additional guidance.

Content Marketing
Content is the backbone of every digital marketing campaign. Use the power of content to showcase how your product stands above your competitors. And why they should prefer you.
Read More: Improve your Brand's Reach with these Content Promotion Ideas

Improves Visibility
Marketing your business in the Covid-19 quarantine situation is difficult but investing in digital marketing now would reap long-term benefits. This is the right time to invest in brand awareness and visibility. It's human behaviour that they prefer things that they are familiar with.
So, the right digital marketing strategies would turn the odds in favour of your business. Seek out some low-cost techniques that will keep your business visible. As more and more people choose to isolate, these strategies would help your business to remain functional.

Optimizing Conversions
If your business doesn't have a blog, start one. A blog is a prime and vital medium to connect with your audience. Put content related to your products/services and make it engaging so that your audience finds it useful.
If you already have a blog, update and revise your existing content as per the situation to remain intact on SERPs. Along with that, make certain changes to your websites and add suitable CTA's to optimize the conversion rate. Here's what you can do:
Post reviews and recommendations ( at every touch point of the marketing plan).
Share stories that depict your quality and dedication in the tough times of the coronavirus outbreak.
As long as the lockdown prevails, your website will be the first interaction point for the customers. So, make sure to turn it impressive.
Redesign your Strategy
You need to stay up front with the situation. Keep your customers/clients informed about the measures or any new strategy followed against the Covid-19 pandemic. For example, if you run a restaurant, inform your customers regarding home delivery or takeaway options. Things have to be kept going.
If you run a Gym, you can share essential tips with your customers on how to stay healthy at home. Or, what exercises they can follow to stay fit at home. You can choose blogs, social media, and videos as your medium.
Amid everything, you need to follow the government's protocols as much as you can to prevent the situation from going grave. Stay positive. Things will turn to normal sooner or later. Show your customers that you support them.
Evaluate and Refine
Evaluation is the key to improvement and Google Analytics will show you the way. You are wasting money if you are not improving. Keep track of your marketing activity and redefine it as required. This is the time when you need to focus on your visibility and engagement and not only just profit.
Follow these tips and help your business sustain amid the repercussions caused by this deadly pandemic. We, at Digital Kangaroos, are working round the clock to help you devise adequate marketing efforts for your business survival.
Our adept team members are working from home to provide you with uninterrupted professional digital marketing services such as SMM, Content Marketing, website designing, graphic/logo designing, etc. Our comprehensive suite of digital services is a solution to all your modern marketing woes.
Go online, reach more customers, boost visibility, and most importantly- survive your business with exceptional digital marketing services offered by Digital Kangaroos- The Best Digital Marketing Company in Punjab.
For more assistance or guidance on your business marketing plans during the COVID-19 lockdown, email us at info@digitalkangaroos.com or you can also call us directly at +91 9814820845. Stay Safe, Stay Inside, and Leave your business promotions to us!