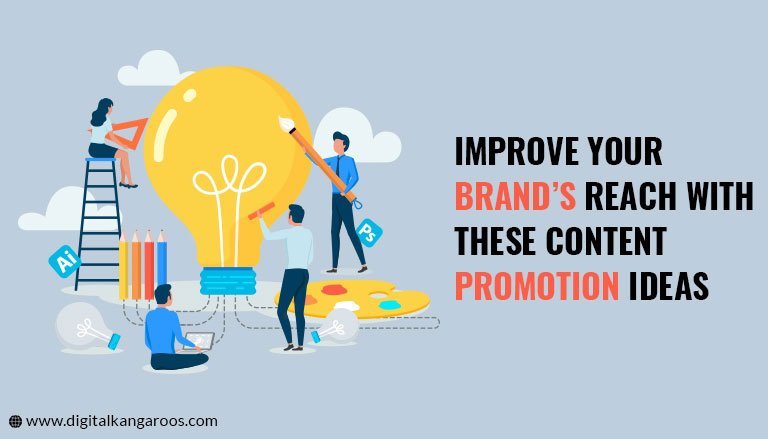 Improve your Brand's Reach with these Content Promotion Ideas
Digital marketing strategies are aimed at building strong audience relationships through valuable and relevant content. But, no matter how much research work you have put in or how original the content is, your efforts go in vain if they fail to reach your niche or targeted audience.
Here content promotion comes into play!
Related: Relying only on SEO could be dangerous
The more you are able to expand your online visibility; the more the opportunities to convert a visitor into a customer. The three pillars of every content promotion strategy are:

Building Awareness
Generating leads
Engaging leads or conversion
But, content promotion isn't a cakewalk. Content promoters or marketers work their fingers to the bones to promote the content. We have curated this post to help budding entrepreneurs and start-ups to perform some simple yet effective DIY content promotion strategies.

Share Content Multiple Times
Sharing on social media is the first task of every content promotion and digital marketing strategy. It amps up the brand's reach and boosts visibility. You need to have a large number of followers or fans for every content promotion technique to be successful.
Building a great following would take time, but it's worth the time invested. You can approach social influencers who can help you reach millions of people with their single share.
But sharing once on your account is not enough. When we talk about social media, paid ads dominate organic searches. Organic traffic on LinkedIn, Twitter, Facebook, etc. is fleeting. So, share your content multiple times to ensure that it reaches your followers.

Start Guest Posting
Guest posting is basically writing informational content/blogs for your targeted audience or relevant community blogs. When your content is shared on such blogs, your viewership bag gets a whooping jump. You get connected to a whole new group of people and have an opportunity for a grand conversion.
For this, you need to find the right blog. Don't go on the number of readers. The target for a niche audience, even small numbers would work. This is more valuable than posting on a bigger blog with a broader appeal.
Found a blog? Go ahead and check out the requirements for guest posting or email the owner regarding the same.

Make it Shareable
Your content would only be shared if the readers are able to share it easily. Strategically adding social media buttons to your content makes things sorted.
Add buttons such as click to tweet, PinIt and other social media sharing buttons.

Email New Content to Your Subscribers
Email marketing is the most effective and easiest way to content promotion and to stay connected with your loyal audience. You can either draft a newsletter stating the latest and upcoming things. Else, you can curate a piece of content especially designed for your email subscribers.
Believe it or not, emails have the highest click-through and response rates as compared to other forms of digital marketing.

Reach Out to Influencers
Directly asking a social influencer to share your content won't work. The best way could be by asking for their input or using a quote/snippet from their published post. Try to grab their attention by giving them proper credit.
This will trigger the influencer's interest in your piece. Though you can't be sure if the influencer will be sharing your piece across all his platforms, it will at least help you to get a foot in the door.
Just a single share by an influencer in his community can rock your brand.
Click Here to know your Influencer

Connect with People with Similar Interests
Don't expect the audience to just approach you. You have to take the first initiative. Look out for people and build relationships with them. These people are not professional influencers but share industry news/information/trends with their followers.
By connecting with them unfurl the potential of your content to tap their followers and start building a great audience.

Join Communities and Share Content in the Comments
You have to pull out all the stops if you want to expand your reach and build a great audience. Try to connect with industry communities or professional groups/organizations online. Join these communities/groups and promote your content there.
Try to solve the audience's queries and subtly share your link. The same thing applies while answering in Quora as well. Briefly comment on the question and drop your link. But don't share your links with each and every answer, it would look spammy. Share the link only to the ones that are extremely relevant to your content.
7 Impeccable Hyper-local Marketing Tips to boost your Business

Content Syndication
This is different from guest posting. There are many websites/blogs that are hungry for content. These websites allow outside publications and reposting of your content as well. You don't have to draft a new post altogether. Just pick any of your popular posts and send them to these websites for publishing.
Pitch your high-performing pieces to attract more audience.

'Snackable' Content
Snackable is a word coined for short videos/articles/content that is easy to consume. During your content promotion, convert your written content into Snackable videos or briefs. It's a great way to repurpose your content and give it an engaging flavour.

Use Paid Marketing
Though following organic methods is an ideal way you need to invest in social media paid advertising to make a cut. But before you decide to go for a paid promotion or set a budget, consider this:
Bet only on your top-performing pieces or content you know would definitely bring traffic.
Avoid investing in snackable content. Longer and more detailed content would make the most out of your investment.
Go for ebooks, whitepapers, webinars, detailed content, etc.


Get Set Go!
Always remember, your efforts in content creation pay only if your target audience can find and engage with it. Follow the above tips to get started with your content promotion and start building an audience.
Need help? We will help you create great content with customized promotion strategies to improve your brand's reach and visibility. Email us at info@digitalkangaroos.com to get started.