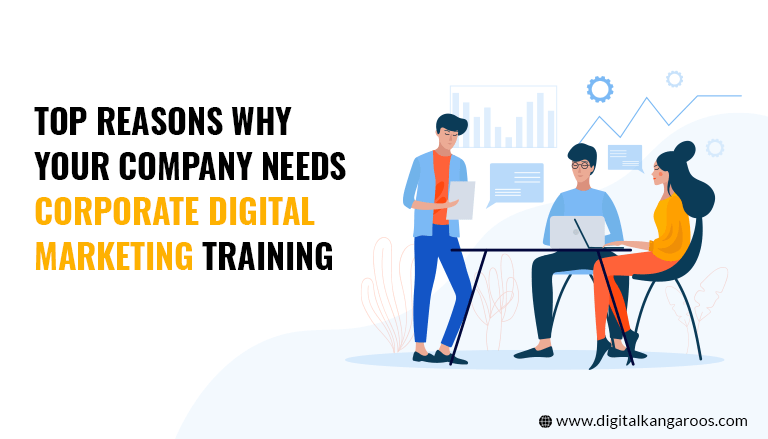 Top Reasons Why Your Company Needs Corporate Digital Marketing Training
Our world is getting digitized at a very fast pace. People across all the industries have accepted and embraced this change with wide hands open. Still, thinking? It's high time that you jump on the digital bandwagon for the sustainability and visibility of your business.
Going digital does not only mean having a website. It means much more than that. Your website is just the first step of the staircase to the online world. Even if you receive amazing footfall on your website but you don't know how to convert it into sales or leads, your efforts go null and void.
Online marketing and promotion, known as Digital Marketing, encompasses various elements and factors. The tools and strategies of digital marketing offer small and big companies the best chances of survival, competition and business growth.
Digital marketing is essential to peddle your products and services to local and global audiences. Corporate training in digital marketing ensures that you are keeping an eye on the right ball driven by the latest trends, events and updates.
Customer awareness and brand recognition are the two main pillars of any digital marketing campaign. Running some random un-focused ads won't work. You need to have well-planned, targeted, and integrated digital marketing strategies for your business.
In today's world, people have more smartphones than the number of members in their family. This clearly signifies that the internet is knotted with everything we do and in every decision we make. This post discusses the potential reasons why corporate training in digital marketing is essential for your business to stay alive and kicking in the real world.

More Affordable and Effective than Traditional Marketing
One of the best advantages of digital marketing is its wide reach within an affordable budget. Even a small company can pitch great leads without making a dent in the pocket. Rather than opting traditional marketing methodologies such as print ads, hoardings, TV or radio ads, go for affordable and effective digital marketing options.
The famous blogger Neil Patel has also shared that content marketing costs three times less than your traditional tactics. Every penny spent on digital marketing is absolutely worth it and guarantees excellent ROI.

Levels up the Start-ups with the Big Ones
Practically, if you are a start-up, it would take you years to grow big and compete with giants in your industry. Digital marketing has completely reversed the scenario. It helps you go that extra mile in a minimum time frame and you stand levelled with your competitors soon.
Whether you are into e-commerce, medical profession, sports, education, beauty services, electronics, etc, digital marketing offers survivability and sustainability to every small business. Digital Kangaroos' personalized and customized corporate digital marketing training modules help you leverage your customers locally as well as internationally.
This advanced training module helps you compete in the market tactfully even with a small advertising budget. It also helps you understand how you can drive your business smartly with the analytics.
Learn More: Nano to Mega Influencer- With whom you should Work?

Brand Power and Recognition
Now, you can offer a more personalized experience to your audience through engaging blogs, social media posts and ads. Knowing the right way of digital marketing allows you to establish yourself as a brand and amp up the conversion rates.
Learn More: How to use SMO Techniques to Boost Brand Awareness?
Social Media Marketing allows you to engage the on-the-go audience as well. Now you can entertain, inform and engage your ideal audience in the right manner.
Our corporate training in digital marketing helps you understand the smart moves to tap the customers who visited your website and left without purchasing. Our ingenious digital marketing training tips help you strengthen relationships with current customers and strike a conversation with the potential leads.

Respond to Latest Trends in Real-Time
Digital marketing is a vast expanse with ever-changing trends. To stay ahead in the digital game, you need to stay updated regarding the popular trends, events, topics and technologies. By tailoring your digital marketing strategy as per the real-time trends, you can amplify your business leads and conversion.
Learn new strategies to boost traffic during the festive season.
Our trailblazing corporate training in digital marketing offers your brand to build loyalty and helps you emerge as an unprecedented leader in the market. Our corporate training on digital marketing helps you to respond to these trends quickly.

Your Competitors are Doing It!
In order to sustain in the market and stay competitive, going digital is the sole option. The chances are that your competitors are already headed towards digital marketing.
The ball is in your court!
It's high time to start using digital marketing strategies to reach more customers, engage them and influence their purchasing decisions. In fact, customers do expect this type of marketing from the brands they buy from.
Digital marketing is here to stay! It is and will continue to impact the buying decisions of the netizens significantly. Your business is at high risk if you do not integrate digital marketing into your overall marketing strategy.

Over to You!
So, are you ready to take your business to new heights? Our adept corporate training in Digital Marketing will empower your business to grab every single opportunity knocking at your door. Make your brand's presence felt nationwide with our result-driven digital marketing training exclusively designed for the corporate sector.
Call us today at +91 9814820845 or just drop a mail at info@digitalkangaroos.com.