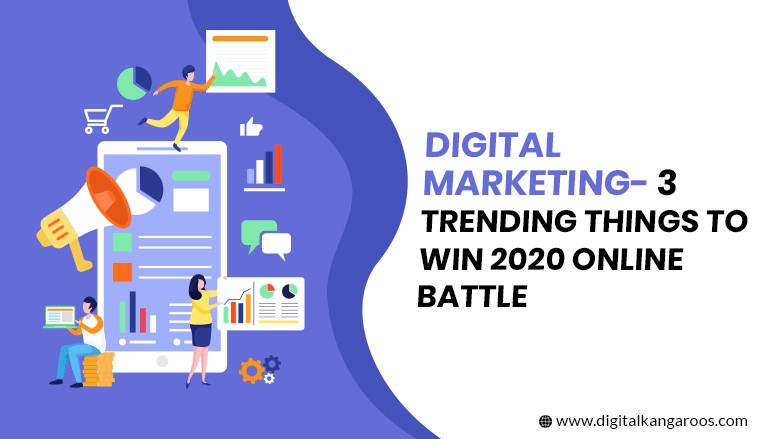 Digital Marketing- 3 Trending Things to Win 2023 Online Battle
Digital Marketing is leveraging the power of the internet through mobile devices, search engines, social media, and other channels to amplify the digital reach and gain phenomenal online visibility. With everyone jumping on the digital bandwagon, this post discusses 3 must-opt trends to win the 2020 online battle.
Social Samosa, the synonym for credibility in digital marketing, discusses some exemplary checklists, tips, and campaigns that help ease your marketing woes. This famous web portal adeptly focuses on the inevitability of digital marketing for sustenance in the real world. According to Social Samosa, 30% growth is expected in digital advertising endeavours this year.
Neil Patel is the one person whom we all trust for the latest trends and updates in digital marketing. Neil Patel, the co-founder of NP Digital and Subscribers, shares some interesting insights on expected digital marketing trends in 2020. This top influencer across the web shares that you need to diversify your efforts across various platforms and channels to get maximum return.
Additionally, he insists that personalization is the only option to tap the genuine traffic as nearly 97% of the traffic is either junk or unqualified. We have to tap that 3% and make them conversion-ready.
The competition is growing stiff with each passing day as the good channels are getting saturated extremely fast. Your business needs exposure to multiple channels as relying on one channel such as Facebook, E-mail or Quora would not yield your results alone.
Even if you are getting explosive traffic and staggering growth from a single channel, it will last shortly. The competitors who are keeping an eye on your progress will jump on board and will make it harder to survive soon.
Here are the 3 Trends that you need to follow to win the 2020 Online Battle
Digital Marketing today needs an innovative, personalized, and professional approach. Following the archaic strategies would pitch only marginal gains. The outbreak of COVID-19 has deeply disrupted the economies. Thinking positively, this Lockdown has given businesses enough time to analyze and understand their goals.
You need to stand up front and refurbish your approach to stand indomitable in 2020.
How to remould your Digital Marketing during the COVID-19 Lock Down?

Drop in Video Reach
Today everyone is doing Youtube, Instagram, Periscope, and Snapchat!
The videos posted are lacking originality due to the saturation of video content. People just pick one big video, chop it up into bitesize chunks, and keep posting across their platforms. The audience is getting bored with similar-looking stuff. With no originality coming up, the viewership is certainly declining.

But, hold on!
Where the viewership of normal videos is going down, live-streaming is growing at a mind-boggling rate. For the last couple of years, every social media channel has been trying to vie for the attention of the audience by launching their own live-streaming services.
The love of the audience for raw, unedited, real-time, and in-person content is growing leaps and bounds. People want to see their favourite entertainers, influencers, content creators, etc. in real-time.
Live streaming is garnering the attention of the business world. According to VisualStoryTell, live streaming projections would be worth a whopping $70.05B by the next year (2021).
Time to Try Something New:
Next time you plan to post your next blog, just spare 5 minutes and fire up a live video. Tell your viewers what you are going to publish, and the reason, and give them a teaser of what will be included in the blog.
What You Will Gain Out of Live Streaming?
The live streams are often flooded with comments, discussions, suggestions, likes, dislikes, and so on. This allows the brands to create more authentic connections with their customers. The brands can drive meaningful insights into the expectations of the participants.
So, go live now. If you are unable to make it every time, just try going once a month.
How Digital Marketing helps your Business Survive the Tough times of Covid-19?

Good Content Still Matters
Content Marketing still continues to be an inevitable part of every digital marketing space but with a twist. In 2020, you need to focus on several aspects of content along with quality. Context and target audience are the two naïve factors that need attention.
To understand online content in a better and deeper way, Google is continuously updating its algorithms to make the crawling bots smarter. So, businesses must work on areas to capture their target audience by tailoring more precise content in 2020.
How to Rank High in SERPs in 2020?
Rather than chasing the latest SEO trends, it's time to focus on ensuring fast-loading speed, well-written content, and useful links.
Content marketing is here to stay!

Voice Interaction Continues To Rise
2020 and the following years will see a drop in mobile traffic and a significant increase in voice search. All thanks to Voice-driven smart assistants such as Siri, Google Home, Alexa, etc. Verbal interaction is now a preferred way of digital interaction. The voice-driven devices are catching up with the audience to shop and search.
After the inception of Google Snippets, organic search traffic has been hit severely. To combat this, make sure to optimize your website for voice search. Adopting a voice strategy, helps the brands not only to remain relevant but also to impart an optimized and unique customer experience. This will amp up brand loyalty and foster relationships down the line.
Pro-tip to Optimize for Voice Search
To optimize the content for voice searches, try to opt for a conversational tone and use keywords that people will use. This will not only help you to ace voice searches but also appear in the featured snippets and much-coveted position zero on Google searches.

Get Involved or Left Behind – Choice is Yours!
In 2020, Live Streaming, Quality and targeted content, and Voice searches are the three most prominent digital marketing trends. Audiences today want new and exciting ways to connect with businesses that make their e-journey more enjoyable and easy.
So, which of these trending things will you try first? For more interesting insights on digital marketing keep reading our blog and stay tuned with us.